UNIVERSITY OF ABUJA
(Office of the Vice-Chancellor)
CENTRE FOR SIWES STUDENT MENTORING AND EMPLOYMENT (CSSME)
The Vice-Chancellor Professor Abdul-Rasheed Na'Allah at his first visit to the Unit on the 2nd of July 2019 approved that the SIWES Unit be renamed as Centre for SIWES and Student Employment (CSSE) with an additional responsibility of coordinating work placement for University of Abuja students within the University via the Student Employment Scheme (SES). The Centre was renamed again Centre for SIWES, Student Mentoring and Employment (CSSME) following the commencement of the Student Mentoring Scheme (SMS) in 2020.
The Centre coordinates three schemes, Student Industrial Work Experience Scheme (SIWES) for undergraduates in SIWES participating Departments/Faculties, Student Employment Scheme (SES) for all undergraduate students of the University of Abuja from 200 level to their final year of study across various disciplines and the Student Mentoring Scheme to mentor all first-year undergraduate students with a post-graduation follow-up.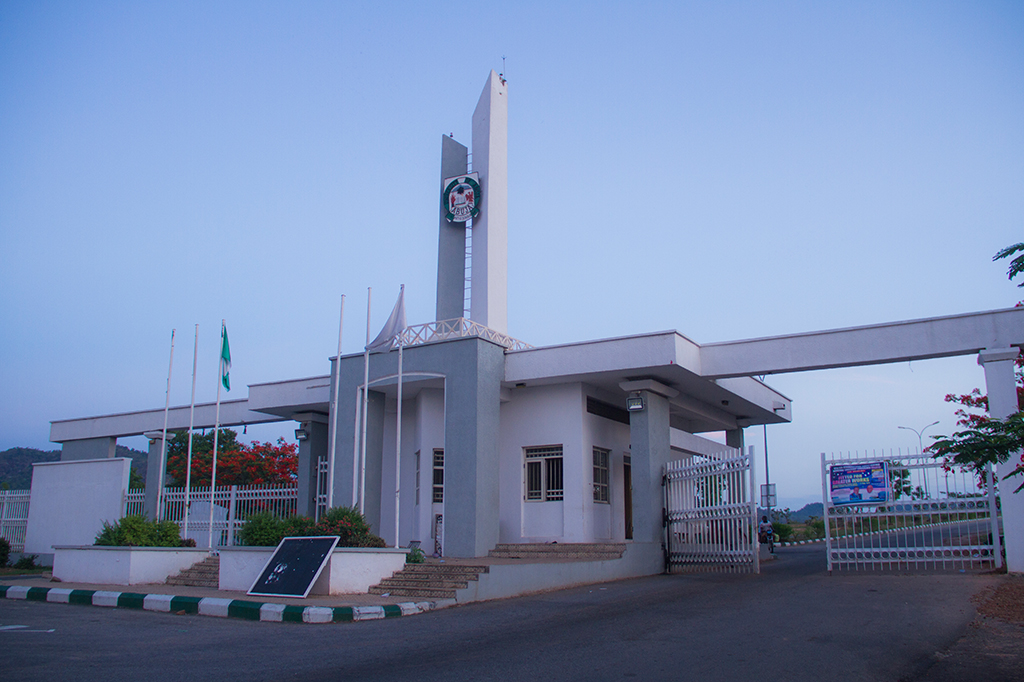 STUDENT INDUSTRIAL WORK EXPERIENCE SCHEME (SIWES)
Creativity, Innovation & Productivity
The Student Industrial Work Experience Scheme was initiated by the Industrial Training Fund (ITF) in 1973. It is a tripartite programme involving student, Universities and Industries. The Scheme is funded by the Federal Government, jointly regulated by ITF and the National Universities Commission (NUC). The University of Abuja following its opening of academic activities in 1990 established the SIWES Unit in 1996 under the Office of the Vice Chancellor. The Centre is headed by a /Director, who directs and coordinates SIWES operations within and outside the University and reports directly to the Vice Chancellor. Dr Grace Oyiza Anibasa-Ogunlade is the current Director of the Centre.
The Student Industrial Work Experience was established to bridge the gap between theoretical knowledge and practice. The aim and philosophy of the programme include the following:
To provide an avenue for students to acquire industrial skills and experience during their course of study.
To prepare students for industrial work situation that they are likely to meet after graduation.
To expose students to work methods and techniques in handling equipment and machineries.
To provide student with the opportunities to apply their educational knowledge in real work situations, thereby bridging the gap between theory and practice.
To make the transition from the world of schooling to the world of work easier through enhancing students contact for later job placement by way of familiarizing and exposing themselves to the needed experience in handling equipment and machinery.
These broad aims are now being tailored to meet to current trends in technology and development.
There are several participating Departments in the scheme every SIWES year, where students are attached to various industries, companies and organizations between three months to one year. Academic staff of such Departments are required to supervise the students, while the Centre monitors both staff and students to ensure they participated in the scheme.
Participating Departments include:
S/No

DEPARTMENT

1

Biological Sciences

2

Chemistry

3

Mathematics

4

Statistics

5

Computer Science

6

Physics

7

Microbiology

8

Geography

9

Science and Environmental Education

10

Faculty of Agriculture

11

Mechanical Engineering

12

Civil Engineering

13

Chemical Engineering

14

Electrical/ Electronic Engineering

15

.

Faculty of Veterinary Medicine

16

Library & Library Information Science
THE STUDENT EMPLOYMENT SCHEME (SES)
The Student Employment Scheme (SES) is a Scheme targeted at developing work ethics among Nigerian youths particularly students of the University of Abuja. Every Industry/Organization would in addition to acquired skills, relevant training and job specification qualities show kin interest and place emphasis on work ethics and culture. This can be developed and cultivated in our students by exposing them to appropriate work environment and experience which will help acquaint them with organizational core values to promote visionary leadership and excellent service delivery to the University and the Nation at large. The Centre for Student Industrial Work Experience Scheme, Student Mentoring and Employment (CSSME) offer career advice, information on workshops and work experience opportunities and placement within the University Community.
The Centre also provide support for students throughout their times in the University of Abuja at most levels of their studies. Most undergraduates can do a stipend paid work placement in their second year and penultimate year of study. A dedicated
placement support helps get students work placement subject to availability of vacancies, University's budget and ability of students to meet the eligibility criteria. There are two versions of the Student Employment Scheme: the Paid Student Employment Scheme(PSES)  and the Voluntary Student Employment Scheme (VSES).
OBJECTIVES OF SES
The Centre for SIWES and Students Employment aims at skilling the young work force of the University of Abuja and elevating their skills to global standards for employment in Nigeria and globally. It is the University nodal agency for facilitating ad coordinating various skill development initiatives. The Centre also promotes, establish and set up tools to monitor and govern the work placement of students with the following objectives:
To promote acquisition of competent standard, ideal work ethics and technology that meet the demands of various industries locally and globally.
To teach and inculcate employability skills in students to prepare them for actual work experience in their future careers and endeavours.
To provide trainings in various work ethics and value re-orientation to enhance students' capacity and ability for participation in the work placement scheme via trainings on financial skills, entrepreneurial skills, work ethics, emotional intelligence and resilience, technical/specific skills peculiar to various fields, strength finders, and career assessments.
 
STUDENT TARGET
The Undergraduate students of the University of Abuja from 200 level and above will become eligible to apply for work placement within the University across different Units, Departments, Faculties and Colleges. However, the number of students that would be recruited will be subject to availability of spaces across various Units.
For more details, see the SIWES/SES handbook.
VOLUNTEERING
Volunteering means offering a service that is not obligatory but required and considered helpful to a people or humanity. Volunteering allows individuals to connect to their communities and make it a better place. It has two-fold impact i.e it can benefit an individual and family or community as much as the cause one chose to help. It will also expand network, enable one to make more friends, boost academic, intellectual and social skills, advance a career and improve health. Volunteering offers vital help to people, organizations, communities etc. It is giving to others and giving back to the society. Giving to others can help protect mental and physical health.  It can also bring fulfilment to life. Volunteering is one of the good ways to improve social relationship skills as it provides the opportunity for students to meet regularly with a group of people with common interests and goals.  Giving back to the society through volunteering will show our students first-hand practical experience of making a difference in the society and how good it feels to help others, the society and to enact a positive change. It is also a valuable way to find resources and activities that will enhance personal development.
Some studies have reported some health benefits of volunteering as itemized below:
Combating the effects of stress, anger and anxiety – The social aspects of helping and working with others can have a profound effect on the overall psychological well-being.
Combat depression – volunteering helps to keep regular contacts with others and a solid support system which in turn will help protect students against depression.
Happiness – researchers using measured hormones and brain activity have discovered that being helpful to others and the community delivers immerse pleasure. Humans are wired to give to others, knowledge, experiences etc and the more we give the happier we feel.
Increases self-confidence – Being useful to others and the community provides a sense of accomplishment and it is more likely to have a positive view of life and future goals.
Provides a sense of purpose – It helps find new meaning and direction in life.
Volunteering helps to stay physically healthy–one become engaged and productive.
Gaining Career Experience – It offers chances to try out a new career.
Over a year ago, the stipend paid Student Employment Scheme (PSES) was introduced by Professor Abdul-Rasheed Na'Allah. The scheme has enormously benefited our great U of A students. Annually, there is an increasing quest of students to fill work placement positions across Departments, Faculties and Units with some students willingly requesting to serve voluntarily to gain experience and improve themselves.
The University has increased her budget for more student workers in the 2020/2021 budget. However, to stimulate and encourage the zeal of students for profitable service to humanity and the community and help our students develop patriotic characters, that would enhance sustainable personal and national development, the Vice Chancellor has introduced the Voluntary Student Employment Scheme (VSES).
THE VOLUNTARY STUDENT EMPLOYMENT SCHEME (VSES)
Same condition and terms apply to the VSES as the existing paid Student Employment Scheme (PSES) except for variation in the duration of maximum and minimum work hours and status as unpaid and voluntary. However, students who have volunteered with the Centre for not less than one semester will be eligible to apply for Paid SES Placement if places or vacancies become available and advertised. All volunteer student workers will be given priority preference to fresh applicants provided they possess skills, qualifications, and job specifications of the requesting Departments/ Faculties/ Units for the vacancies advertised.
Once vacancies are advertised, already serving volunteer student workers, who are interested in the advertised positions will have to apply and submit required documents and must show evidence of voluntary engagement (The VSES appointment letter and current placement). The evidence will be verified by the CSSE to confirm candidate's status. They must have volunteered for not less than one semester to qualify to apply. Such candidates shall be required to pass through an interactive / screening session with the CSSE and the requesting Department/ Faculty/ Unit and if successful shall be approved for one SES year as applicable to the current stipend paid Student Employment Scheme. Note that all voluntary candidates must have a CGPA of 3.50 and above to qualify to apply and mut possess all the eligibility criteria required for PSES.
Availability of spaces in PSES is subject to budgetary provision and number of spaces available in Units, Departments and Faculties. Note that spaces available are also competed for by volunteer student Mentors (VSM).
Preference and priority will be given to exceptional students with outstanding records of performance during the VSES period and volunteer student workers who have doubled as student workers and mentors in the Student Mentoring Scheme (SMS). This implies that not all voluntary student workers will be automatically qualified for Paid SES opportunities.
Mode of Application
Upon advertisement of available work placement opportunities, interested students shall submit application to CSSME not later than the stipulated deadline. No application would be received beyond the deadline.  Applications could be submitted online via the Centre's redesigned website. However, application submission via the CSSME website is not available now. Students' applications can be mailed to dcssme@uniabuja.edu.ng or ses.cssme@uniabuja.edu.ng except when calls for application did not allow this channel. Call for applications will be sent to all Units/Departments and made available on students' platforms, Centre's websites, and the University official portal. Where Units have listed specific requirements for certain positions in addition to the eligibility criteria, students from related disciplines are welcomed to apply. Additional details can be found on the SES handbook.  
Applications are processed and shortlisted candidates will be invited for screening/interview with the participation of the representatives of the various placement Units/Departments. Those candidates who have successfully passed the placement screening/interview will be recruited and posted to requesting Units and Departments and shall be responsible to the Head of Units or designated Unit Supervisors for monitoring, mentoring and supervision.  For more information on SES eligibility criteria and other details, please see the SIWES/SES handbook.
STUDENT MENTORING SCHEME (SMS)
Imparting lives, Building Societies
The Student Mentoring Scheme is aimed at skilling and developing the mentoring capacities of students at the University of Abuja towards building them up for impactful and fulfilled lives/careers that could help boost and sustain national development.
To develop the total person in our student through effective student mentoring scheme.
Using a structured guideline whereby knowledge, skills and experiences are shared with the student to enhance their learning and improve their character whereby making them take responsibility for their grown in the society. t and sustain the Nation's value system for sustainable development.
During and after the mentoring scheme, the students should be able to:
Maximize their academics potentials through the development of their time management skills, study skills, motivation and their self-confidence among others.
Achieve better academic results at graduation.
Shun all academic environmental vices such as exam malpractices, cultism, sexual harassment, gangsterism, etc.
Balance their academics with the good things the University of Abuja can offer them'.
Produce graduates that are total persons ready to be exemplary leaders tomorrow.
Sustain exemplary character development in life.
The University of Abuja Mentoring Scheme will be a two for one initiative in the first instance. It will promote the character development of mentee and help in enhancing effective learning. The mentoring experience will build their skills throughout their working career and also create awareness of learning strategies and better understanding of career path after university education and training.
Undergraduate students of the University of Abuja from 200 level and above will become eligible to apply to be student mentors. However, recruitment shall be subject to the students' ability to meet the eligibility criteria, training test, and background check of prospective mentors as detailed in the SMS handbook. Prospective and existing student workers already engaged in the Student Employment Scheme are automatically eligible but must pass through the Student Mentoring Scheme screening test independently of the Student Employment Scheme (SES) interview and screening.
The Centre, in every academic year shall call for applications from eligible students as volunteer mentors. Applications would be submitted to online to the CSSME website https://.cssme.uniabuja.edu.ng as it becomes available for receiving applications. The University Community shall be informed when it becomes available to receive students' applications.  Call for applications are sent to all Units/Departments and also made available on the students' platforms, Centre's website and the University's official portal. Applications are processed by the Centre via the Student Mentoring Scheme Board (SMSB).  Applications are processed using stated eligibility criteria and shortlisted candidates shall be invited for screening/interview with Board members. The Board shall carry out background checks on every candidate concerning character traits in addition to the scheduled screening/interview. Interested/prospective mentors can also email application to sms.cssme@uniabuja.edu.ng attaching their most recent results and copies of curriculum vitae. Applicants must provide two referees, one of whom must be the applicant's Head of Department. Successful candidates after the initial screening/interview and background check shall be recruited. They must compulsorily pass through the pre mentoring induction/training which shall be concluded with a training test that may be oral or written as would be determined by the SMS Board.
SMS help Desk Facility
The Centre  provided dedicated support for SMS through her help desk facility.   Mentees, mentors and stakeholders can contact the help desk using help.sms@uniabuja.edu.ng  or  +2348189666533 ( WHATSAPP and Telegram )  or  09158987633  ( mobile) You  can also  use the CSSME App. This app can be downloaded from the google play store or use the link on the Centre's website.
The CSSME App
All student workers will be able use this app to communicate with the CSSME.  This app can be downloaded from the google play stores. Guidelines on usage is available on the website from the 2nd June, 2021 after Commissioning by the Vice Chancellor. 
VISION
Our vision is to bring inspiration, creativity, innovation, character and academic excellence to all students of the University while maximizing their potential to become a world-class sustainable 21st Century University.
MISSION
To inspire healthier communities of young Nigerian students through committed support for students throughout their studies.
To provide a dedicated placement support for our SIWES, SMS and SES participating students.
To build strong values of work ethics, innovation, creativity, sound character/morals and productivity in students via SIWES, SMS and SES.
All the Departments in the Faculties of Science, Agriculture, Veterinary Medicine and the Department of Science and Environmental Education have credit units allotted to SIWES as a core course. Students are graded after successful completion of the scheme and upon submission of the students Logbook, Technical Report and oral defence of their participation. The students from ITF funded programmes are entitled to ITF stipend upon verification of students logbooks by ITF. Details of this programme is in the SIWES handbook proposed for use in the 2019/2020 academic year.
SIWES: Get a skill today!
Be creative, innovative and productive.
The Centre offers support for students throughout their times in the University of Abuja at most levels of their studies. Most undergraduates can do a stipend paid work placement in their second year and penultimate year of study. A dedicated
placement support will help get students work placement subject to availability of vacancies, University's budget and ability of students to meet the eligibility criteria.
All rights reserved @ CSSME -University of Abuja, 2021 All Centre's documents being University's intellectual property are protected by copyright. Please do not reproduce these materials without the prior permission of the Vice Chancellor via the CSSME.